Songlife Series – Tiger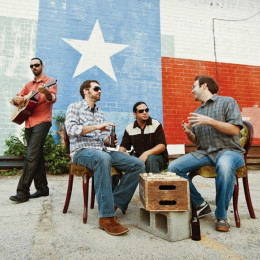 Now that we are in our own studio space, we want to give our fans a listen to the creative process. We're documenting all of our new songs and the journey we take developing them, and we want you to join us every step of the way.
Tiger
Origin: Marshall sent us this guitar riff on dropbox, recorded on his phone:

Then we did a 1-mic demo recording in our studio with Andrew on rhythm guitar, Marshall on drums, and Zero on keys with an organ tone. Andrew came up with the basic bridge, then Marshall and Zero added the buildup at the end of the bridge for sweetness, Marshall came up with the four big stops,and then we wrote a breakdown part and a droning part that sounded cool maybe for live shows. Andrew listened to the demo for a few days, then came in on different day and recorded the vocals/lyrics, beginning with an overdriven Shure SM 57 stage mic for recording.

A week later, the full band met up to play the song for the first time, again with a 1-mic recording. Andrew had thought of a way to add the breakdown part and droning part written the previous week to the end of the song. Zero moved over from the keys to work out the bass lines, and Daniel came in on lead guitar and decided to try out playing with a glass slide that he found laying on the desk in the studio that day. You can hear the arrangement starting to develop. Andrew came in on a different day and overdubbed vocals, this time with an AKG Perception 820 condenser mic to try out a cleaner sound:

Studio Day 1: We have stepped into the studio to begin recording Tiger. The band is really tight on the song, so we opted to record guitar, bass, and drums simultaneously, or what's known as "Live" tracking. Andrew's vocals and Daniel's lead guitar work will be recorded separately. What you're hearing now is the raw material, before the song is mixed.

Behold, the final product, Tiger unleashed! Mixed and Mastered by Allan Davis, Produced by Kenny Matthew Gardner, Matthew Davis Buehrer, and Andrew Karnavas