Bad Bad Man Music Video
"South Park Meets Sin City" in the Band's Half-Live, Half- Paper Animated Video Directed by Lynn Birdwell of Rivet
PRESS CONTACT: Sydney Dao:  Sydney@squidincpr.com
(Houston,TX) – March 2015
"It's easier to pull the trigger than play guitar. Easier to destroy than create."
– Antonio Banderas, Desperado
Runaway Sun lead singer Andrew Karnavas loves the Robert Rodriguez movie Desperado. "I was 11 years old when it came out and I saw it in the theater with my dad. The opening scene has that great voiceover narration from Steve Buscemi, as he tells the story of a barroom slaying in another town to a bar full of seedy characters, including bartender Cheech Marin. The low lighting, the guitar case full of guns, the great soundtrack…Desperado has it all. I've watched that movie over and over again."
Runaway Sun has completed their first major music video for Bad Bad Man, a song born out of Karnavas' love for antihero stories. Like Desperado, Bad Bad Man follows a man hollowed out by loss, by the murder — we learn as the lyrics play out — of his wife on their wedding day. He's become a force relentless, taking justice into his own hands. He's on a search-and-destroy mission that won't bring back his wife, and certainly won't bring him peace. But it has to be done. He's a man avenging the murder of his wife at any cost.
"The song is a heartbreaker," says Director Lynn Birdwell of Rivet. "Given a chance to make justice personal, who has not considered righting a wrong, in their darkest thoughts?" Birdwell has skillfully produced for and owned award-winning commercial and documentary film production companies with blue chip advertising agencies and direct clients since 1993. She first met the band in 2009 after her husband and Director of Photography Raul Casares shot the band's Live From SugarHill Studios performance and told her, "These guys are good. They need a video."
The video was shot at Dean's Downtown, a bar on Main St in Houston that celebrates the city's history and the history of the downtown building that houses it, which is more than 100 years old (look for bar owner Grace Rodriguez's photograph in the altar scene). Bad Bad Man is a mix of performance video, punctuated by shadowed, beautiful imagery of a shrine to his wife – a shrine full of clues. And it's all glued together with some very unique paper animation by award-winning Houston animator Brandon Ray.
The story comes to life in that animation. In a walking arc of fury and grief, our Bad Bad Man, now a paper figure in a surprisingly dimensional paper world, tracks down and eliminates his wife's killers – none too gently. The video smartly uses the animation to take the edge off of a nasty, bloody business. But that edge returns every time the animation cuts back to Karnavas, staring us down. Channeling the Bad Bad Man as he sings, his eyes smolder with anger and sorrow. And as the song progresses to its chilling (or rather, burning) end, all the visual elements come together, and we see that payback is complete. Or is it? There's a sense of emptiness, and that the journey hasn't ended yet, and won't end any time soon.

The lyrics are simple and clever. At the beginning, our Bad Bad Man is bad as in dangerous. But by the last line of the song, it feels more like he's bad as in guilty, as if self-doubt over what he's done is starting to gnaw at his soul. Not to say that's going to stop him. No sir.
The musicality of the piece is pure have-to-play-it-again Runaway Sun, from its sparse, Dobro-like opening riff to the pounding finish, where de Luna finally turns loose his guitar and burns down the house. The music and the imagery are a perfect, haunting combination. Director Lynn Birdwell has created a landscape that allows for visual cues in the live action that find their way into the animation and back out again – but it's subtle, and makes repeat viewing something you'll want to do.
Bad Bad Man takes Runaway Sun to the dark side. But it's a good dark side, and you'll want to watch it unfold in this music video.
MEDIA LINKS:
www.runawaysun.com | twitter.com/runawaysun | facebook.com/runawaysun
Bad Bad Man Synopsis and Director Interview by Lou Congelio
Rivet: http://www.shootrivet.com
Brandon Ray / Paper Brain Animation:  http://brandonray.net/

Cast and Crew: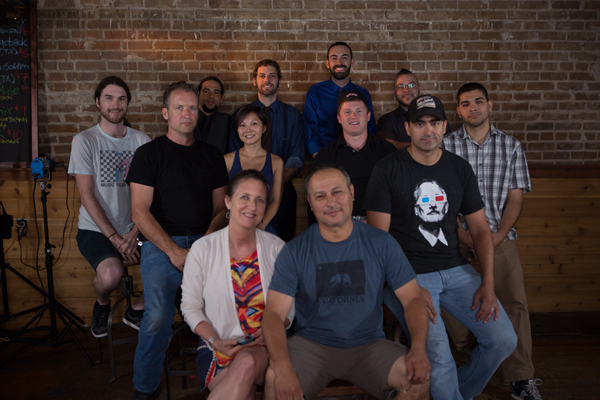 Creative Director / Director / Producer:
Lynn Birdwell, Rivet
Director of Photography:  
Raul Casares
Editorial:  
Create Media Services
Matt Holicek
Animation:  
Paper Brain
Cameraman:
Jerry McCallum
AC / Media Manager:
Erik Sanchez
Propmaster:
Dan Birdwell
Grip:
Mitchell Earley
Rob McCarthy
Cameras:  
C2 Cameras
Cliff Davis
Locations:
Deans Downtown
Starring:
Andrew Karnavas
Matthew Davis Buehrer
Marshall West
Daniel de Luna
Grace Rodriguez