About Runaway Sun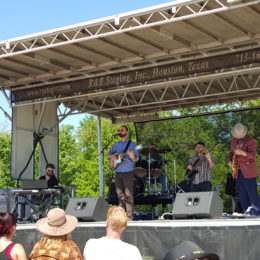 Runaway Sun effortlessly melds blues, rock, country, and pop into an arresting, energizing sound that drives people to sit up and rock out.
In five years, the band has cut three studio releases and established a broad fan base with a steady Gulf Coast touring schedule. Their first full-length album, The Bridge, was recorded in a blistering eight hours in one day at Houston's legendary SugarHill Studios. Its success led to opening slots for Heartless Bastards, UK blues-rock powerhouse Back Door Slam, shows at the House of Blues and SXSW, and an appearance at the "Live in Union Square" concert series in Manhattan.
Runaway Sun was nominated for "Best Blues Group" in the 2009 and 2010 Houston Press Music Awards; and in 2011, lead singer and songwriter Andrew Karnavas opened for Trombone Shorty and MyNameIsJohnMichael at the "PBS and Friends" SXSW showcase. With their latest release, Let's Run, Runaway Sun established themselves across the South; and in 2013, added Memphis and Chicago to their 2013 show dates, continuing to win new audiences and break new territory across the country.
Instrumentation
Andrew Karnavas – Rhythm Guitar & Lead Vocals
The Mighty Orq – Lead Guitarist
Marshall West – Drums
Matthew Davis Buehrer – Bass
Matthew Serice – Trumpet, Keyboards
Discography
Live at No Label Brewing Co. LP – 2015
Let's Run LP – 2012
The Bridge LP – 2009
Runaway Sun (EP) – 2008
Runaway Sun Official  Website
Links